On the 22nd of May, Intradco Global successfully organised the transportation of 161 Bulls. The livestock departed from Greenville–Spartanburg International Airport (GSP) in South Carolina and arrived at Sir Seretse Khama International Airport (GBE) in Botswana. 
 The bulls were a mix of Gray Brahman, Angus, Brangus, Charolais, Beefmaster, Santa Gertrudis, and Red Brahman breeds, and they were all headed to Botswana as part of a breeding program. In total they weighed 90,000kgs and were transported in 35 cattle crates.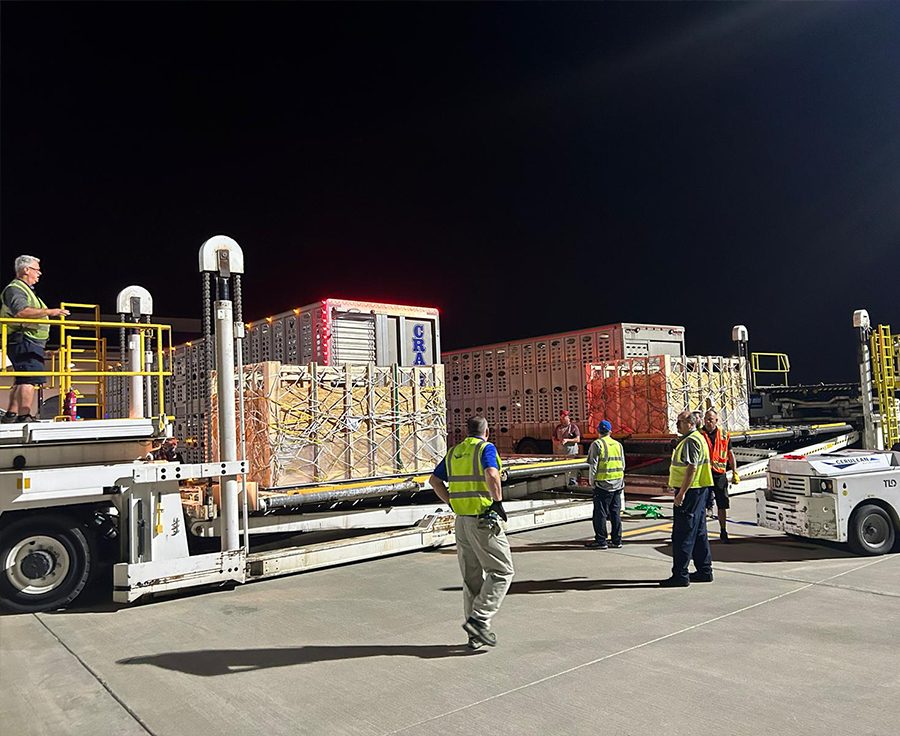 As you can imagine, transporting such a large group of livestock takes a lot of organising. Our expert team worked closely with the operator, airport, handling USDA and our client to ensure that every aspect of the operation ran smoothly. This was the first cattle export from GSP airport, therefore the team needed to arrange for the airport to be made a temporary export port with the USDA. The Bulls were loaded on to the aircraft in their crates using specialist equipment. 
All animals arrived safely, ready for their onward journey to their new homes. The client was happy with the service and efforts that Intradco Global provided, saying "It was a pleasure working with Intradco Global and I'm not used to having so much help. They made my job much easier!". 
This operation was a team effort and a special thanks go to the USDA and GSP Airport, Canada Operations Team Project Managers Erica Resendes and Monique Huras, as well as Intradco Global's professional grooms, Zac Carroll and Lyn Gardner who looked after the animals throughout the operations, from loading them onto the aircraft, accompanying them through the flight, and unloading them in Botswana. 
 Tom Lamb, Regional Manager North America, said "Intradco Global faced a few challenges in the planning and implementation of this operation but the team was able to bring this together to a successful outcome, with all parties happy. Using our expertise, we were able to overcome the obstacles faced when using a new airport, bringing in our equipment and staff, while working closely with the USDA and GSP airport to achieve a great result. Our experienced grooms watched over the animals throughout to ensure their comfort and safety was a priority."