Intradco Global transports genetic breeding pigs totalling 90,000kg from the USA to China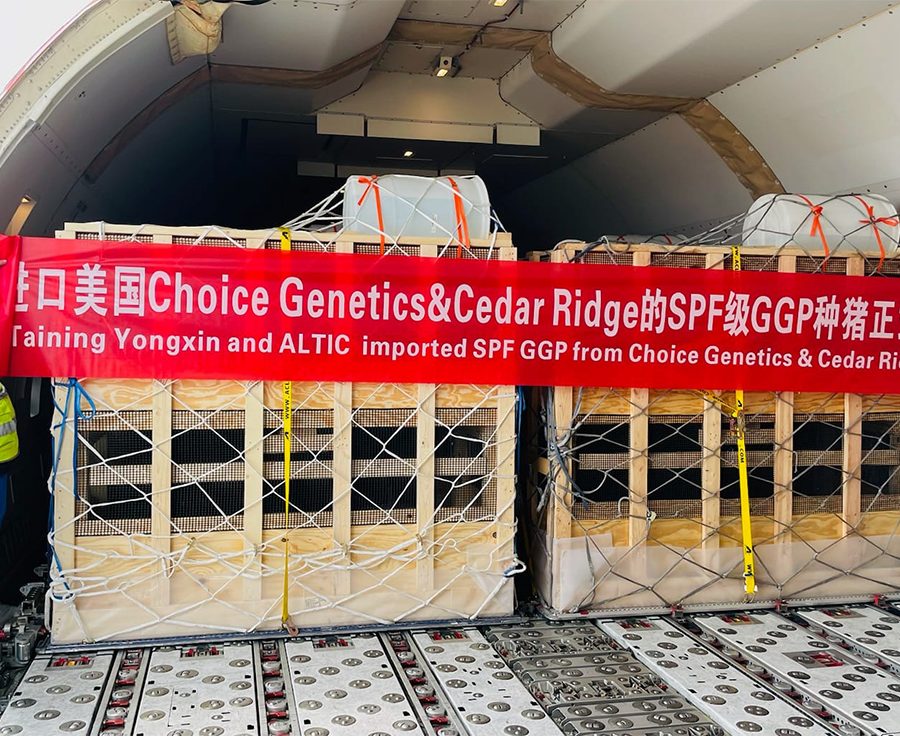 In June 2023 Intradco Global transported over 90 tons of genetic breeding pigs from Chicago O'Hare International Airport (ORD) to Wuhan Tianhe International Airport (WUH), via Ted Stevens Anchorage International Airport (ANC).
Intradco Global prioritises the welfare of the animals it transports, and as such the operation took place during the night to avoid the heat of the day and ensure the pigs were safe and comfortable.
The pigs arrived at ORD in the evening of 13th June, and the loading of the 30 crates onto the B747-400F aircraft took place over the following nine hours in a temperature-controlled warehouse. The Intradco Global ground operations team, comprising Monique Huras, Erica Resendes and Charlie Baker, used their specialist equipment to overcome the challenge of a less-than-ideal loading space, expertly securing the crates in time for the flight to leave in the morning.
Tom Lamb, Regional Manager – North America, says, "The Intradco Global team always has several contingency scenarios pre-planned, allowing us to find the best and most efficient work-arounds when challenges arise and things don't go to plan. Staffing issues and last minute requests from the airline did not faze us and we were quick to react with solutions."
The exemplary teamwork between Intradco Global, the warehouse and airline staff, and the United States Department of Agriculture resulted in a smooth and successful charter, and the client, Choice Genetics, was delighted with successful delivery of hundreds of healthy pigs.
Get in touch today to arrange your next livestock charter: info@intradco-global.com